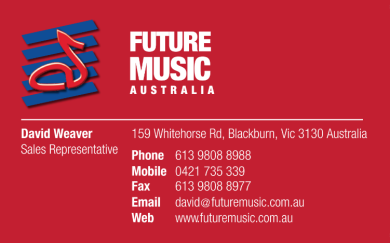 Future Music Education Service
Future Music is Melbourne's leading supplier of musical instruments, equipment and sheet music to schools and tertiary institutions. 
The products we offer can be found in our Education catalogue, but we have access to many products and are happy to go above and beyond to find the right piece of gear. 
To download a copy of our catalogue, please click here
We can come also to you with band, orchestra, jazz, choral and instrumental ensemble pieces. As composers and arrangers ourselves, we enjoy helping you find the perfect piece to complement your program, and can visit your school so you can browse at a time that suits you and your staff.
To make an appointment contact:
David Weaver
For enquiries of repairs, software and additional equipment, feel free to talk to one of our staff, who can assist you further.
Call +613 9808 8988 today!